One-Way Cab Booking in Bangalore for Corporates
In the fast-paced corporate world of Bangalore, efficiency and cost-effectiveness are paramount. When it comes to corporate travel, especially one-way trips, it's essential to have a reliable and seamless transportation solution. Corporate One-Way Cab Booking in Bangalore offers a tailor-made solution for businesses seeking to optimize their travel expenditure and streamline the commute.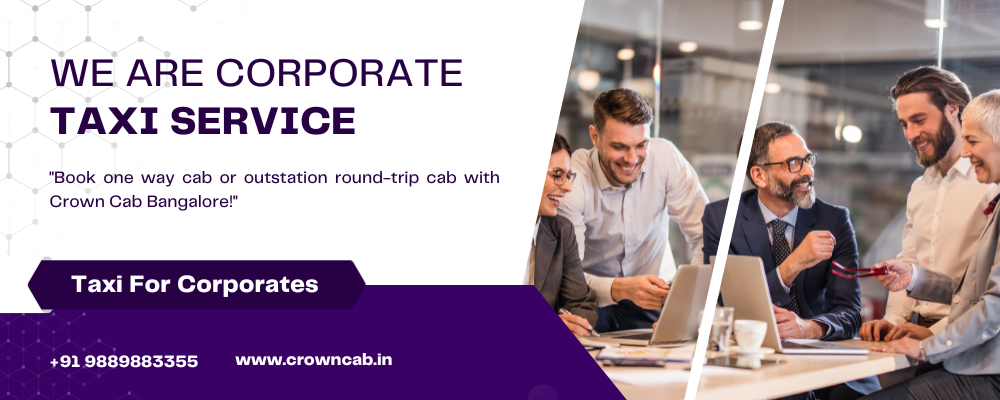 The Need for Corporate One-Way Cab Booking
Corporate travelers often find themselves in situations where one-way travel is not only more convenient but also budget-friendly. Whether it's attending meetings, catching a flight, or simply reaching a destination without the need for a return trip, one-way taxi bookings are becoming the go-to choice for corporate travel:
Cost Efficiency
Crown cab bookings are designed to minimize costs. Businesses can save on expenses by paying only for the one-way journey, eliminating the need to book a round trip.
Flexibility in Scheduling
Business schedules can be unpredictable. One-way cab booking provides the flexibility to choose departure times according to the needs of your corporate team, ensuring that no one is left waiting.
Hassle-Free Transport
Corporate travelers can focus on their work, rather than worrying about navigating the city or dealing with parking. With one-way cab bookings, the transportation process becomes hassle-free and efficient.
| | | | | |
| --- | --- | --- | --- | --- |
| Cab | Minimum Limit | Per Km | Driver Allowance | Book Now |
| Swift Dzire/Etios | 250 Km | 18/- | 300 | Book Now |
| Ertiga/Xylo | 300 Km | 24/- | 300 | Book Now |
| Innova | 300 Km | 26/- | 300 | Book Now |
| Crysta | 300 Km | 30/- | 300 | Book Now |
One Way Rate
Benefits of Corporate One-Way Cab Booking
Cost Savings: Businesses can significantly reduce their travel expenses by opting for one-way cab bookings. These cost savings can be allocated to other crucial aspects of corporate operations.
Efficient Scheduling: Corporate one-way cab bookings enable precise scheduling, ensuring that employees are always on time for their appointments, whether it's a client meeting or a flight departure.
Comfort and Professionalism: Corporate travelers can expect a comfortable and professional journey. The cabs are well-maintained, the drivers are courteous, and the service is top-notch.
Customized Solutions: Companies can choose from a range of cabs to suit their team size and specific requirements, from sedans for executives to spacious SUVs for larger groups.
Making Your Corporate One-Way Cab Booking
Booking one-way cabs for corporate travel is a straightforward process. You can reserve a cab online via a user-friendly booking platform or by making a direct call. Simply specify your pick-up and drop-off locations, select your preferred taxi type, and the rest is taken care of.
Streamline Your Corporate Commute
With Corporate One-Way Cab Booking in Bangalore, your business can optimize its travel arrangements. Say goodbye to the complexities of booking return trips and dealing with unnecessary costs. Your corporate commute becomes cost-effective, efficient, and seamless.
Choose Crown cab booking to streamline your corporate travel needs and experience the future of efficient transportation.