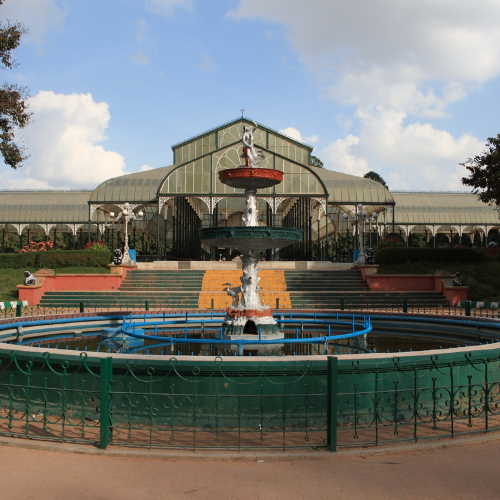 Nestled in the heart of Bangalore, Lalbagh Botanical Garden is a lush paradise that beckons both nature enthusiasts and history buffs. This historic garden, spread over 240 acres, has been captivating visitors with its vibrant flora, diverse fauna, and architectural marvels for centuries.
History of Lalbagh Botanical Garden
Lalbagh has a rich history that dates back to the 18th century. Commissioned by Hyder Ali and later completed by his son Tipu Sultan, this garden was originally designed as a royal Mughal-style pleasure garden. It was later developed into a botanical garden under British rule and has since become one of India's most famous green spaces.
Botanical Collections
One of Lalbagh's highlights is its extensive botanical collection, which includes a wide variety of indigenous and exotic plants. The garden is home to over 1,000 species of flora, including stunning roses, vibrant orchids, and towering bamboo groves.
Attractions and Features
Rock Formation:
The famous Lalbagh Rock, a 3 billion-year-old geological wonder, stands tall within the garden. It's a great spot for panoramic views of the surroundings.
Glass House:
The Glass House, modeled after London's Crystal Palace, hosts an annual flower show and is a marvel of Victorian architecture.
Kempegowda Tower:
An ancient watchtower that provides breathtaking views of the garden.
How To Reach Lal Bagh
Lalbagh is conveniently located in the heart of Bangalore, making it easily accessible from various parts of the city. The garden has multiple entrances, but the main gate is off Lalbagh Road. You can reach Lalbagh Botanical Garden by cab, public transportation, or even by walking if you're staying nearby.
Tips For Visiting Lal Bagh
Timing Matters: Visit in the early morning or late afternoon to avoid the scorching midday sun.
Comfortable Footwear: Wear comfortable shoes as you'll be doing a lot of walking.
Camera Ready: Don't forget your camera or smartphone for capturing the garden's beauty.
Picnic Perfect: Pack a picnic and enjoy it in one of the designated areas.
Best Time To Visit Lal Bagh
The best time to visit Lalbagh Botanical Garden is during the months of September to February when the weather is pleasant and many flowering plants are in full bloom. However, the garden's charm is evergreen, and you can explore it year-round.
Local Flora Conservation
Lalbagh plays a crucial role in the conservation of local flora. It's not just a beautiful garden but also a hub for research and education about plant biodiversity.
If you are in Bangalore for a Outstation tour, you can travel to Lalbagh Botanical Garden and then carry on with your journey. Book your Bangalore outstation cab with Crown Cab.
Lalbagh Botanical Garden is a treasure trove of natural beauty, historical significance, and environmental conservation. Whether you're a resident of Bangalore or a tourist passing through, a visit to Lalbagh is a must for anyone seeking tranquility amidst nature's wonders.
For more information and the latest updates on Lalbagh Botanical Garden, visit the official website or plan your visit to experience this green oasis in person.