Budget-Friendly Bliss:
Are you longing for a weekend escape that won't break the bank? Bangalore, with its strategic location, offers a plethora of budget-friendly options for the savvy traveler. Crown Cab, your trusted Bangalore Outstation Cab, is here to take you on a wallet-friendly adventure. Let's explore affordable getaways that are big on experience, not on expense:
Nandi Hills: Sunrise on a Shoestring
If you're a fan of stunning sunrises, Nandi Hills is your go-to destination. Your Bangalore Outstation Cab can take you for an early morning rendezvous with nature. Pack a picnic, enjoy the fresh air, and watch the sun paint the sky without denting your wallet. Book Bangalore to Nandi Hills cab with few clicks.
Ramanagara: The Thrifty Trekker's Paradise
Ramanagara, just a Crown Cab ride away, offers a cost-effective escape for nature lovers and adventure seekers. With its rocky terrain, it's ideal for rock climbing and trekking enthusiasts. You can scale the hills without scaling your budget.
Hogenakkal Falls: The Mini Niagara of India
Hogenakkal Falls, often referred to as the "Mini Niagara of India," is a remarkable sight to behold. A Crown Cab ride will get you there, and you can enjoy a coracle ride amidst the cascading waters, an experience that's both unique and budget-friendly.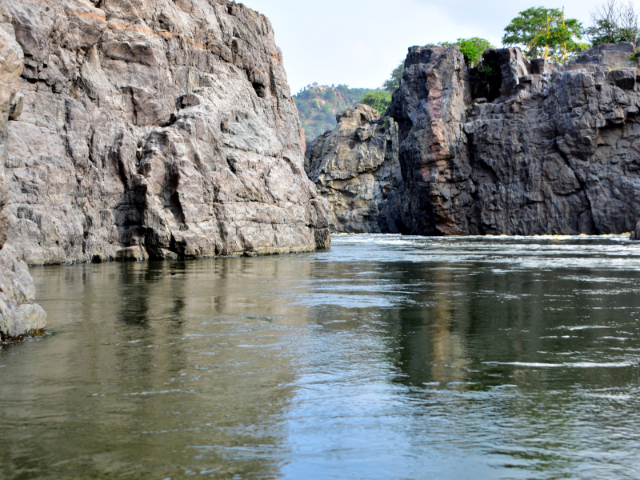 Bilikal Rangaswamy Betta: Trek on a Tight Budget
For trekking enthusiasts, Bilikal Rangaswamy Betta offers an affordable adventure. Your Outstation Taxi can take you to the base for a nominal cost. The trek to the summit provides breathtaking views without breaking the bank.
Savandurga: Scaling Heights, Not Expenses
Another budget-friendly trekking destination near Bangalore is Savandurga. With Crown Cab, you can reach the base and embark on an adventure that's light on your wallet. Enjoy the challenging climb and panoramic views.
Melkote: A Cultural and Spiritual Retreat
Melkote, known for its cultural heritage and serene ambiance, offers an affordable cultural escape. Explore ancient temples, savor local cuisine, and take leisurely walks through the town, all without spending extravagantly.
Shivanasamudra Falls
Shivanasamudra Falls, a short drive away, is a beautiful waterfall where the Cauvery River splits into two cascades. A Crown Cab can take you there to witness the natural beauty without splurging.
Lepakshi: Art and Architecture on a Shoestring
Lepakshi, with its intricate sculptures and historical significance, is an affordable cultural getaway. Your Bangalore Outstation Cab can transport you to this hidden gem where you can explore the art and history of the region.
Talakadu: Temples in the Sand
Talakadu, known for its temples submerged in sand dunes, offers a unique experience on a budget. Explore the Vaidyanatheshwara Temple and immerse yourself in the history and mystery of this destination.
Bananthimari Betta: Offbeat and Economical Trek
Escape the tourist crowds and head to Bananthimari Betta for an offbeat trekking experience that won't strain your wallet. Your Crown Cab journey will take you to this serene location, perfect for budget-conscious trekkers.
Plan Your Affordable Getaway
These affordable weekend getaways near Bangalore, accessible via Crown Cab, prove that you can have a memorable escape without overspending. Whether you're an adventure enthusiast, a nature lover, or a culture buff, these destinations offer budget-friendly experiences.
Before you embark on your budget-conscious getaway, ensure you've made arrangements for transportation and checked for any entry fees or activity costs. With Crown Cab, you can enjoy a frugal but fantastic weekend adventure.